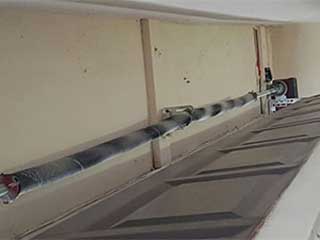 As an established garage door repair company with many years of experience, our team can help you with all spring-related needs. Do they seem loose, rusty or damaged? You can trust our professionals to lubricate, check, adjust and replace them as necessary.
Are Your Springs On Their Last Legs?
When was the last time your springs were checked? You should know that continuing to use your overhead door with worn or damaged springs can be very dangerous. When springs snap suddenly, they can hurt anyone in the vicinity due to the build-up of pressure. If your door seems heavier and heavier, this could be a sign that your springs need to be looked at. By contacting our experts for a maintenance check, you can ensure the tension and alignment is correct and that everything is running smoothly. We'll make any necessary adjustments and lubricate the parts too.
Any Kind Of Brand Or Model
With expert specialists on board, our company can able help you no matter the type of spring, or brand and model of your door. We are experienced when it comes to both extension and torsion types and have the capacity to deal with all kinds of door weights. We can also provide assistance to commercial and residential locations.
All Your Replacement Needs
If it turns out your spring needs replacing, we can look after this for you. Even if it is just one that is worn or snapped, we always recommend replacing both together to avoid balance issues. It is usually common for the second spring to follow soon after the first anyway.
Emergency Repair Services
If your spring snaps, you'll no longer be able to use your door. We understand this can be a major inconvenience which is why we're committed to providing emergency services when you need urgent assistance. Just contact us and explain that you need help fast.
Have peace of mind when it comes to the safety of your springs by contacting our local specialists at Garage Door Repair Middleburg. All our technicians have exemplary training and know well how to handle repairs, replacements and routine checks, whatever system they're dealing with. Talk to us today!
Give our team a call if you need help with:
Liftmaster Chain Drive Lubrication
New Garage Door Installation
Remote Opener Clicker Replacement
Garage Door Cable Replacement