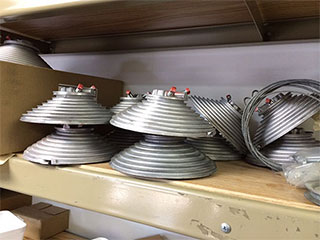 It's understandable to want to save money but when it comes to your garage door, this shouldn't be done at the risk of your safety. The majority of components that make up your system are designed to last for a specific period of time, if you're aware you're running well past the manufacturer's recommended use by date, you may be in danger of creating unnecessary hazards. We always recommend regular maintenance and advise you to ensure none of your parts are considerably worn. At the end of the day, these systems come with their own laws and regulations – it's best to be aware of this.
Start With The Panel
Check the panels for obvious signs of mold or rust and address accordingly. Do you see any dents, which might disable the door's ability to serve and protect you? Would your door be resistant to possible, extreme weather? Is it insulated? If your door currently has no insulation, you are likely to be losing energy through your garage, causing higher energy bills unnecessarily.
Check The Springs & Safety Cables
How old are the springs? Do they look worn? How old is your cable? Are you sure they would work properly in the event that your springs gave way? Don't get stingy when it comes to these things as they can majorly impact your safety when using the door.
Are The Opener & Sensors Working?
If you want to check a team, start with the coach. Openers must work without making excessive and unnecessary noise and the sensors need to be able to detect obstructions properly. You can test the reverse system by placing a broom in the door's path and confirming if the door reverses again. If it doesn't, it could be that your sensors need alignment, cleaning or replacing.
Protect yourself, your family and home with regular inspections and replacements of your door system. Our experts at Garage Door Repair Middleburg, Florida can help you ensure the components are intact, not passed their expiry date, and not putting you in harm's way.