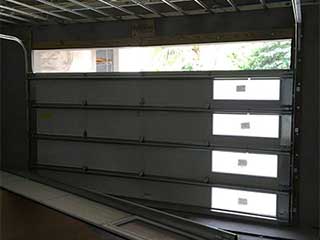 There are many different parts that have vital roles in the opening and closing function of your automatic garage door. If even only one of these components breaks down, the entire system could be rendered inoperable. Because of the tension and the heavy weight involved in the operation of your door, you need to have an expert handle situations of this type.
Cables and Springs are Crucial
Both of these components support the weight of your door while it's moving, and therefore the wear and tear they are subjected to on a regular basis is incredibly high. Eventually, their condition will grow worse and they will break. When that happens, your door could slam shut, and you won't be able to use it. If you were to try to perform cable or spring replacement by yourself, you could get injured, so it's best that you leave things up to our professional technicians. We can perform this task safely, and make sure the tension distribution is readjusted and the door is completely balanced.
A Functional Opener
Your opener, which is the device that powers the operation of your door, needs to be routinely inspected and cared for in order to continue functioning optimally for as long as possible. When something goes wrong with it, if a motor gear wears out, for example, or an electric wire detaches from the circuit board, this device simply won't be able to open your door. Our experts can get things up and running again, as opener repair is one of our specialties.
Damaged Tracks Aren't Irreparable
Your door uses rollers in order to slide up and down the tracks smoothly. If there are dents or bends in these hardware parts, it can cause the rollers to slip and the door could fall off. You don't want to be messing with a door that got off track, because the sheer weight of the panels can make things extremely dangerous. If you find yourself facing such a scenario, contact our team right away.
We'll Get Things Fixed
No matter what type of problem is affecting your overhead door, you can count on our experts at Garage Door Repair Middleburg to get everything sorted out. Call us today.
We also offer the following:
Roll Up Garage Door Services
Extension Spring Adjustment
New Garage Door Clickers & Remotes
Garage Door Troubleshooting Services