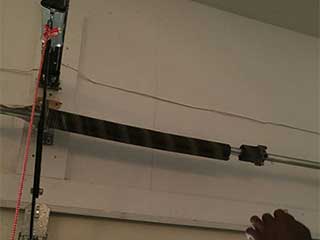 Maintenance isn't simply about tuning up the system, it gives you the chance to learn first-hand the vulnerable parts of your door and enjoy a system free of problems. What we aim for by offering these services is to maximize your system's lifespan. By inspecting and repairing all parts, providing lubrication maintenance and making adjustments, our technicians will deliver a door which performs properly, move to your satisfaction and guarantees safety.
We Know What To Look For
Our technicians will inspect the movement of your door, the behavior of each part, and the general condition of the different parts. We will provide lubrication for all the necessary components, tightening any screws and adjustments, and check if there is any need to change the travel limit of the door or adjust the springs. The door's balance is one of the first things checked during a checkup. It must come all the way up and down, move at a certain pace and leave no gap from the floor once fully closed. If we identify any issues here, we know how to sort them.
Are Your Sensors Functioning Correctly?
Taking care of the sensors is our priority, too. As an overall, our technicians will carefully consider any of the services related to the opener's parts, paying attention to the wires, reverse system, trolley and chain and ensuring anything that requires. Your openers should be able to accurately sense anything in the door's path – if they are unable to do so we will examine this closely and resolve the issues. Our technicians are dedicated to ensuring your system works safety and continues to do so.
About Our Technicians
Our technicians are ready to assist you with all your checkup and maintenance needs. With openers evolving, technology changing, and materials expanding, it's no surprise that our team is dedicated to keeping up with innovations and changes in the industry. Our extensive knowledge is to your benefit. With professionals who have been in the garage door repair business for ages, you'll be safe in the knowledge that you're receiving a quality service. Contact us our experts at Garage Door Repair Middleburg - let's see how fast our team can service your door.
Looking for more? We also offer:
Emergency Garage Door Repairs
Broken Spring Replacement & Repair
Belt Drive Opener Installation
Roll up Garage Door Maintenance